The science behind solar, lunar calendars 
The Tribune Chandigarh (Oped) 22 January 2014
TRADITIONALLY, Sikh festivals and commemorative days have been ascertained on the basis of the luni-solar Bikrami (or Vikrami) calendar which fixes Hindu festivals. In 1999, the Shiromani Gurdwara Parbandhak Committee (SGPC) tried to introduce a new solar calendar, the Nanakshahi, but backed out following opposition from the Akal Takht.
The change-over finally materialised in 2003 but has remained controversial ever since. As a concession to tradition, three important festivals related to full moon (Hola Mohalla and Guru Nanak Jayanti) and amavasya (Diwali) continued to be celebrated according to the Bikrami calendar.
In 2010, the Nanakshahi calendar was further diluted through amendments so that the days of birth and martyrdom of Guru Gobind Singh as well as some other days could be celebrated on lunar dates as before. It is for the Sikh community to decide how the days of religious significance are to be reckoned. My concern in the following is entirely with the scientific aspects of the calendar problem.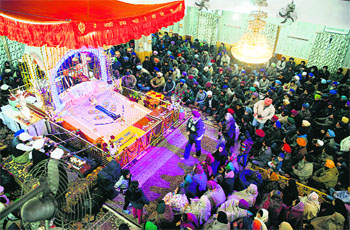 Sikh devotees pay obeisance at a gurdwara on the occasion of the birth anniversary of Guru Gobind Singh. File photo: Yawar Kabli 
For full text see  http://www.tribuneindia.com/2014/20140122/edit.htm#7
(Correction: The text says This amounts to a substantial error of 0.165 days per year . The figure should be 0.0165)